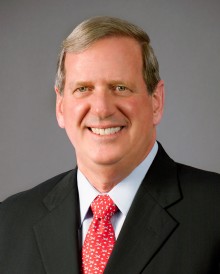 H. Stewart Van Scoyoc
President and CEO
"Stu" Van Scoyoc is the President and CEO of VSConsulting, one of the three Van Scoyoc Companies in Washington, D.C.
Mr. Van Scoyoc has built his companies into the largest Federal Government relations company that is not a subsidiary of an parent public relations or law firm.
With more than 30 years of experience in Washington, Mr. Van Scoyoc is often sought out by the media for his insights into government.
"Stu" Van Scoyoc is the President and Chief Executive Officer of VSConsulting and the other Van Scoyoc companies. He has built his companies into Washington's largest Federal Government affairs and consulting organization independent of a law firm or large corporation.
Along the way, Mr. Van Scoyoc and his companies earned a reputation for care, results, and ethical behavior. Only a few years after the firm opened its doors, The National Journal noticed that "colleagues consider Van Scoyoc a brainy Washington insider who sweats the details."
Mr. Van Scoyoc is regularly interviewed by leading publications for his insights into politics, Congressional activities, and lobbying. Journalists have come to value his candor and ability to communicate complex ideas simply.
VSConsulting Inc., created in 2010, is the most recent of Mr. Van Scoyoc's ventures and represents a new line of non-lobbying marketing and consulting activity. VSConsulting works closely with Mr. Van Scoyoc's two lobbying firms, Van Scoyoc Associates Inc. and Capitol Decisions Inc., to afford clients the fullest possible range of services.
The Hill newspaper had this to say about Mr. Van Scoyoc in a recent profile:
"He believes success can come to those who do not have a hard edge. But the absence of that sharp edge doesn't mean he lacks business sense. Van Scoyoc has a practice of never hiring former Members of Congress; he only hires former Congressional and Administration professional staff members who are experts in specific areas. Most importantly, he and his lobbyists direct laser-beam attention on their clients."
Washingtonian magazine also recognized Mr. Van Scoyoc as one of the most influential lobbyists in Washington in its most recent survey. Mr. Van Scoyoc's business formula is built on "hiring smart, entrepreneurial people with plenty of energy, and then getting out of their way," he said. His staff's professional development tends to parallel his own evolution, starting with mastery of one technical field, and then expanding from there.
Mr. Van Scoyoc earned a Bachelor of Science in Chemical Engineering from Lehigh University in 1969, where he also received the Alpha Phi Omega Award for Leadership and Outstanding Service to the University. For several years, he worked as an engineer for the DuPont Company, while earning a law degree at night from the University of Maryland.
Mr. Van Scoyoc came to Washington and joined DuPont's government affairs office handling legislative and regulatory issues. He then spent eight years as Vice President at Charls Walker Associates, a well-known lobbying company, where he focused on tax, energy, insurance, and environment. Striking out on his own, he became a founder of the Winburn, Van Scoyoc & Hooper government relations firm.
In 1990, Mr. Van Scoyoc created Van Scoyoc Associates Inc., with a focus on Congressional appropriations and taxation. That company quickly developed more than 20 practice areas, ranging from agriculture, biotechnology, defense and foreign affairs, and education, to financial services, energy, homeland security, transportation, and telecommunications.
In 2000, Mr. Van Scoyoc created Capitol Decisions Inc., a boutique lobbying firm providing government relations and public affairs counsel in health care, community development, energy, and grassroots advocacy.
Separate from the government affairs firms, he formed the law firm of Van Scoyoc Kelly PLLC in 2004 to provide counsel for military and civilian government contractors and innovative legal solutions to acquisition, procurement, and regulatory issues. He is a member of the Delaware, District of Columbia, and U.S. Supreme Court Bars.
Mr. Van Scoyoc is active with a number of community and service organizations, including Partner for Surgery, the Armed Forces Foundation, Kidsave, Lehigh University, N Street Village, Our Military Kids, Project Hope, Redeemer Lutheran Church of McLean, Va., and the U.S. Capitol Historical Society.